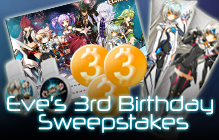 Elsword: Eve's 3rd Birthday Giveaway ($500 worth)
FREE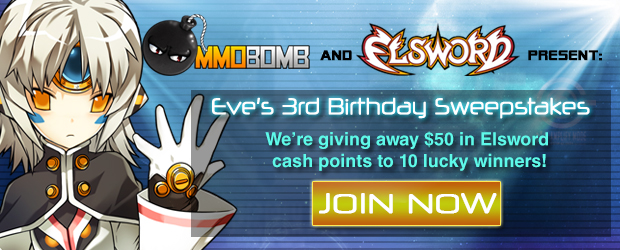 MMOBomb and KOG Games have teamed up to give our users 10 packs of K-Ching ($50 worth each) for Elsword to celebrate Eve's 3rd Birthday! That's nearly $500 worth of goods, plus you can win more prizes! To get this exclusive K-Ching pack, you just need to follow the link and instructions below:
ENTER HERE
Instructions:
1. Log in to your MMOBomb account to get your key. If you don't have one, register for free HERE.
2. Visit the offical giveaway page HERE and create your free account.
3. Activate your account and download the Elsword game client
4. Launch the game, log on and play to Level 10. No purchase required – Play as Eve for a chance at even bigger prizes!
5. You've now successfully been entered into the Elsword MMOBomb Giveaway!
6. Make sure you never miss a giveaway, follow our updates via Facebook, Twitter!
7. Have Fun!
This giveaway contains the following items:
- $50 Worth of K-Ching
Create your account on this page and play Elsword to Level 10 for a chance to Win $50 Worth of K-Ching! KOG Games Cash Points Awarded to 10 Lucky Winners.
- You can Win more prizes by Playing to Lv. 10 with a New Eve Character
You Can Win a package that Includes 1 Life-Size Eve Pillow, 1 Eve USB Flash Drive, 1 Elsword 2015 Calendar and $3 Worth of K-ChingT hese by Playing to Lv. 10 with a New Eve Character.
Rules:
1. This event runs from November 21 to December 2, 2014. Registration cut-off is on December 2nd at 11:59 PM PST
2. Only participants in North America with accounts created on this page may qualify to receive physical prizes
3. Each player can only enter the contest once
4. At the end of the event, winners will be chosen randomly by the Elsword team.
5. Winners will be announced by December 4, 2014 by the Elsword team.
More Giveaways:
Games You May Like