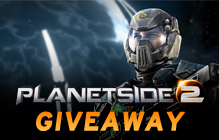 PlanetSide 2: 3rd Anniversary Giveaway
FREE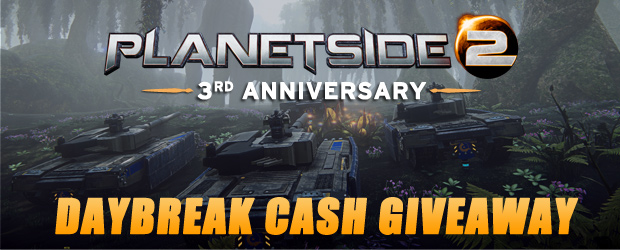 Share if you like this giveaway!
MMOBomb has teamed up with Daybreak Games to celebrate the 3rd anniversary of PlanetSide 2 with a cash code giveaway! Each winner receives a code redeemable for $10 in Daybreak Cash!
How to get a Code:
1. It´s easy, you just need to Register on MMOBomb and submit your email below to get free alerts on upcoming giveaways, we promise not to spam and, of course, you can always "unsubscribe" at any time! If you already follow MMOBomb giveaways via email you can skip step 1 and 2.
2. Check your email and locate the confirmation email. Click on the Confirmation Link in the Email to Complete Your Sign Up.
3. Complete the following sentence: "I love PlanetSide 2 because… ". Leave your sentence in the comments below, please make sure you use the email address you signed up for MMOBomb with. This is really important, if you do it with another email you won't be eligible to receive your prize.
We'll select the 30 lucky MMOBombers on December 10, 2015, we'll be picking and notifying the winners via email, so please use a valid e-mail and check your accounts.
This code contains the following items:
● You will receive 1000 ($10) Daybreak Cash to your account balance.
Video:
>
Notes:
1. Each code can be redeem just once and each person cannot redeem more than one of these codes.
About:
PlanetSide 2 is a revolutionary massive scale first-person shooter where soldiers battle as one in strategic, targeted missions against enemy empires in an all-out planetary war. The game challenges the skill and grit of the most seasoned soldier through intense infantry, air, and ground vehicle gameplay.
More Giveaways:
Games You May Like