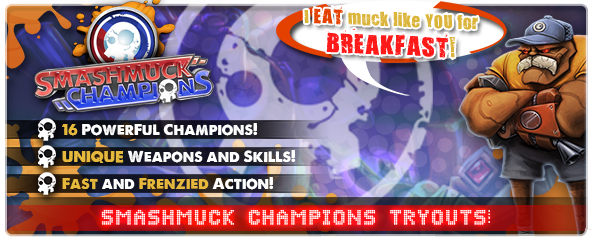 SmashMuck Champions Closed Beta Key Giveaway (More Keys)
FREE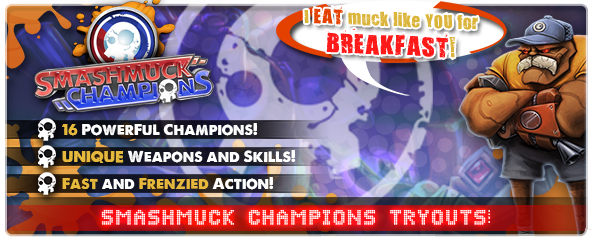 MMOBomb.com and Kiz Studios are pleased to present our users with a invite to SmashMuck Champions Closed Beta. To get your beta code key you just need to click on the button bellow. Don't miss out on this offer!
SmashMuck Champions is a new free-to-play MOBA with fast-paced combat and speedy game times. Inside the arena, Planet Muck's toughest Champions do battle in the zany gladiatorial sport known as SmashMuck.
How to get and use your Key:
1. Log in to your MMOBomb account to get your key. If you don't have one, register for free HERE.
2. Copy and paste your key to a safe place as you may not be able to retrieve it once closing your browser.
3. Proceed to www.SmashMuck.com
4. Sign into your Account by Clicking the Log In button.
5. Click on the Account Button to input your Preview Key (provided below).
6. Check your E-mail and download the client from the link provided or here
7. Download the Client and update it
8. Mac Clients, please follow this link for set up
9. Make sure you never miss a giveaway, sign up for our daily newsletter, it´s free!
10. Have Fun!
Notes:
**Please note: Players outside of the United States may experience lower frame rates than normal, as they continue to test their servers.**
If you are having trouble completing any of these tasks, feel free to contact the game support.
Additionally, we would like you to fill out the Smashmuck Feedback Form after you've tested. Please answer these questions and submit the form when we've finished playtesting. Your responses will be stored for us to view later: https://docs.google.com/spreadsheet/viewform?formkey=dEZQbVItZ1RteGdaX2p1VE10SHZZYUE6MQ
SmashMuck Champions Trailer
More Giveaways:
Games You May Like