Last week, I wrote about how crew and commanders can influence battle in My.com's upcoming combat title Armored Warfare. This week we're getting a sneak peek into how the environment can also wreak havoc on your strategy as My.com shows off the previously unannounced Cold Strike map.
Besides just being visually impressive, the cold, frozen environment adds a bit of complexity when players form their strategy. White fields that can aid in camouflage, muddy tracks that decrease mobility, and even blizzards that can destroy your visibility can all influence the outcome of any given battle.
The Cold Strike map drops players into 1.2 square kilometers of carnage, so let's take a look at how My.com breaks the map down: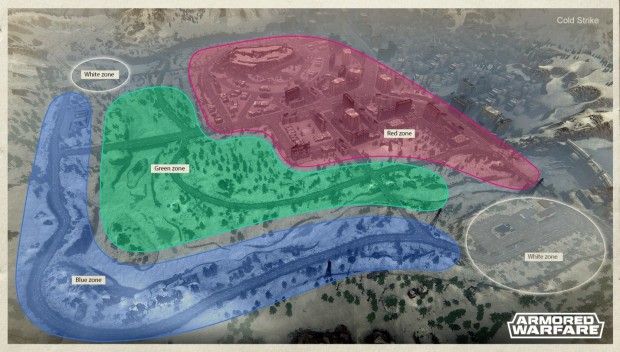 White Zone – These are the drop-off points for teams. To the north is a field camp with warehouses and cargo containers, and to the south is a bus station. You'll have to select your route through the map starting here.
Green Zone – This is the area that encompasses the most direct route to the enemy base. In order to cross this deadly valley, you'll need a quick and easily maneuverable vehicle, since the terrain is wide open, and enemy fire can come from all sides. In addition, it's easy pickings for artillery, so you'll have to avoid their fire as well.
Blue Zone – A longer, but safer route to the enemy base. The highway is here, allowing rapid movement for wheeled vehicles and light tanks. Scouts can use this route to gather information about the location of enemy artillery. Vehicles can also take up positions to shell the city from this area, using vegetation as cover.
Red Zone – These city streets will see the bulk of main battle tank conflict. Heavy tanks can rely on their strengths without concern for artillery fire. Narrow city streets help to limit the enemy's options and their ability to organize counterattacks. Even for weaker fighting vehicles, the territory provides additional cover to compensate for low armor.
Armored Warfare seems to be coming along nicely and I'm looking forward to at least taking the game for a test drive when beta starts.