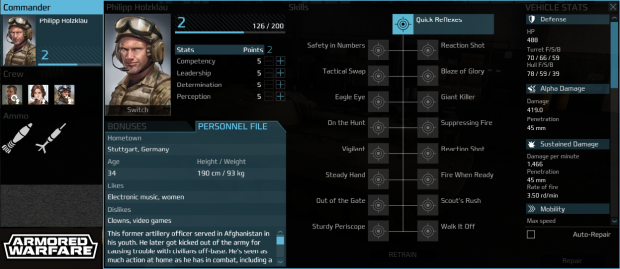 My.com's Armored Warfare, currently taking beta applications, adds even more complexity and customization to war with the addition of Crews and Commanders.
Crews in tank/warfare related games is nothing new. We've seen this addition in some other strategy based combat games, but Armored Warfare seems to be taking things a few steps further. Crews will have specialties such as artillery gunners and main battle tank gunners, and will level up as they engage in battle. As they level, new skills will become available that enhance the operation of your tank without compromising the efficiency stats on the tank itself. Think faster reload times and you've got the idea.
While crews are tank specific and cannot move from one tank to another, Commanders have more range and level along their own path as they move from tank to tank when needed. Commanders also come with a complete back story and biography. Commander characteristics and skills can vastly change the output of your mobile death machine adding bonuses and abilities such as Perception (which increases the field of vision of the tank while the commander is aboard) and Eagle Eye (which increases maximum aiming accuracy.)
With 60 levels of growth and skill selections to make for your Commanders, yes you can have multiple Commanders, it sounds like the art of war just got a little more customization in Armored Warfare. Check out the full details here.