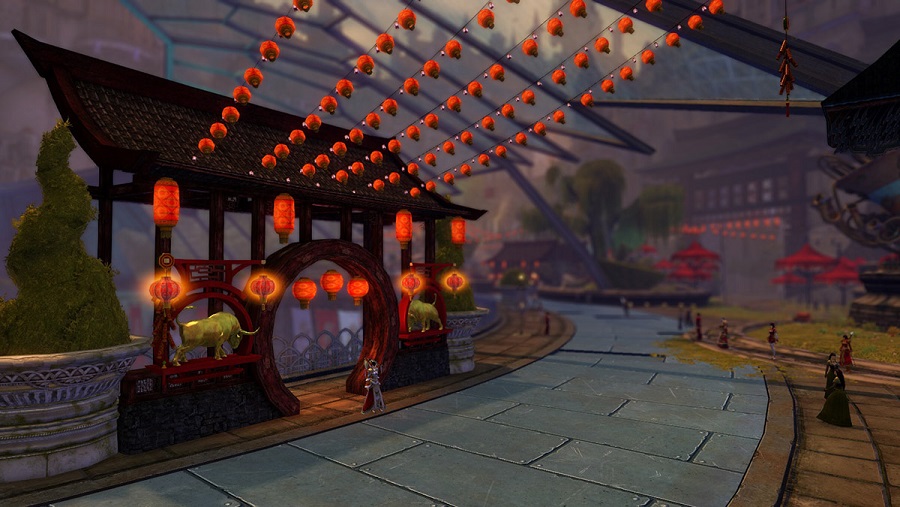 Guild Wars 2's Lunar New Year festival is now live, celebrating the Year of the Ox and bringing good fortune to one and all. As in previous years, the festivities center around the Queen's Pavilion in Divinity's Reach, where you can purchase lucky envelopes, light fireworks, sign up for a mount race, or get into a few matches of Dragon Ball.
The Lunar New Year Customs meta-achievement has been updated this year, offering the Lunar-Enchanted Gloves as a reward. You can also get the new weapon-set upgrade, allowing you to upgrade your Shining Aureate weapons into Fortune-Shining Aureate versions by exchanging Essences of Luck. Alternatively, there's the Refitted Aureate set for those wanting less shiny weapons — odd for any GW2 players, but to each their own.
The Celestial Challenge activity has also seen significant changes, with updated goals, simplified mechanics, and a new achievement, and there's a new backpack and guild hall decoration commemorating the Year of the Ox.
The Lunar New Year's celebration in Guild Wars 2 runs until February 23. Learn more about everything that's a part of it, as well as the other bug fixes and updates in today's patch in the notes on the forums.