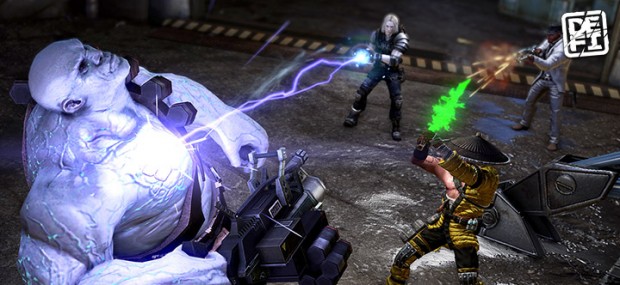 If nothing else, Defiance has some of the most creative names working in the MMO business. I'm not talking about the people's creativity, but the creativeness of their actual names. Not that they aren't creative guys, mind you…
Trick Dempsey is stepping down from his role as Defiance's Creative Lead, passing the role on to Carble "LoCarb" Cheung. As Dempsey and Cheung — can I call you guys Trick and Carble? — laid out in their joint farewell/hello letter, Cheung's been with Trion Worlds since 2008, working on Rift, and transferred to the Defiance team in 2013.
Both are looking forward to Expeditions, a series of tiered challenges with challenging bosses that increase in difficulty depending on Ark Hunters' EGO rating. Just watch out who you join: lower-EGO Ark Hunters won't be boosted up to the level of their higher-EGO partners.
Cheung also confirms that Season 3 content is on the way for the game, along with a new enemy type and "some love to out PvP players." He closes by hinting at a community event at PAX East in Boston next month, so if you're going, you can get the word direct from the man himself!