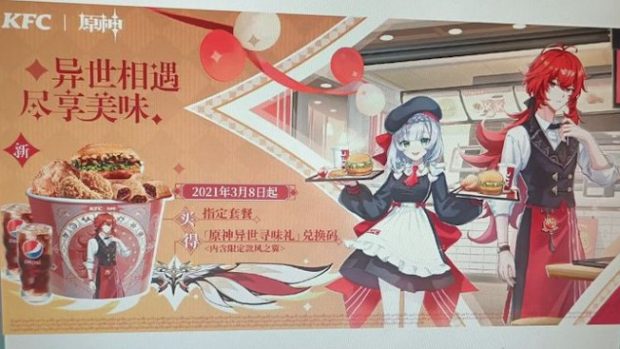 If what Twitter tells us is true, and when can we not trust Twitter?, Genshin Impact and KFC are teaming up for a little promotion. Or, at least they are in China. An imaged posted on the bird app this morning shows a promotional banner featuring Diluc and Noelle having traded in their usual outfits for some pretty fancy KFC uniforms. It also shows a KFC bucket featuring Mondstat's bar owner/super-secretive-citizen-who-seems-to-know-all-the-goings-on-whether-people-want-him-to-or-not, as well as a new pair of glider wings.
Since wings are really the only thing that allows for skins in the game (at least at present) we can probably assume that that's the extent of the promotion. Perhaps something like "buy a bucket of KFC and get a code for new glider wings?
KFC collaborating with Genshin Impact.
Offering limited time KFC Diluc Bucket and Wing skin. pic.twitter.com/QXK3NvWJra

— Zeniet (@Zeniiet) February 22, 2021
On a side note, I wonder if this is KFC's way of saying Genshin Impact will be coming to the KFConsole — since the fast food company just can't stay out of gaming lately.