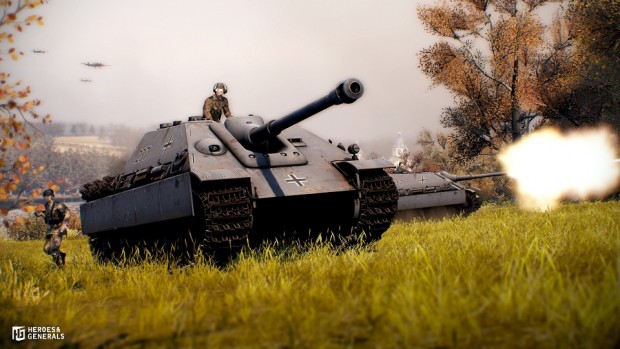 If you weren't sure just what war you were fighting when you played Heroes & Generals, Reto Moto's got you covered. Now rebranded as "Heroes & Generals WWII," the free-to-play wargame has a new update live today, called Stronghold, which brings with it new vehicles, new weapon mechanics, and one of the most iconic battles of … of … which war was it, again?
Described as "urban combat at its best," the Defense of the Brest Fortress is the new battle. You can ride into battle in style with some of the game's newest, hard-hitting vehicles: the German Panzerjäger V Jagdpanther, the Soviet SU-100, and the US M36 Tank Destroyer. In addition, recoil on hand weapons has been improved, which might finally make that submachine gun I bought early in the game viable. Learn more about Stronghold on the H&G website.
In the larger sense, Reto Moto is touting a new "visual identity" and "vision for the future" with the rebranding to Heroes & Generals WWII. CEO Jean-Marc Broyer said that the new identity "sets the stage for a new beginning for Reto Moto. Our focus is now even more on what the players need and what drives our franchise to the next level."
Here at MMOBomb, we love to poke fun at high-minded mission statements, and this one fits the bill. After all, shouldn't you always be focused on what the players need and driving your franchise to the next level? Saying so doesn't seem like much of a change, but it makes for a nice sound bite, I suppose.