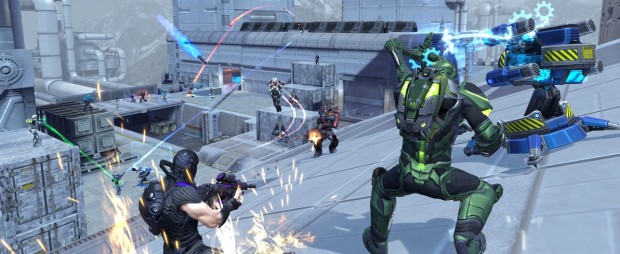 Well, it's certainly been an interesting 24 hours for fans eager to learn more regarding Global Agenda 2. Yesterday, Hi-Rez Studios CEO Erez Goren fed the game's official Reddit community its first bites of gameplay details regarding the sci-fi shooter since the title was originally teased back in 2012.
As mentioned in the three 'spoilers' released by Goren, Global Agenda 2 will act as a 'spiritual' successor to the original, but the current design is only focused around 5 vs. 5 objective-based PvP gameplay, although there may be a central "dome city" area where players can hang out in-between matches. There also won't be any strict class restrictions and unlike the original GA's Medic class, there will not be any classes dedicated completely to healing.
Similar to Hi-Rez's MOBA Smite, Global Agenda 2 will allow players to select "the way you want to play" before joining queue. Additionally, during a match players can improve their weapon and armor stats as they level up. In terms of payment models, Hi-Rez is looking to implement a purchase model similar to Smite, where players will be able to pay a one time fee in exchange for all gameplay related items.
Depending on how development goes, Goren says players could see the closed beta "before the end of the year".
Ironically, Goren was soon after banned from Reddit -and thus banned from the game's "official" forums- for promoting "vote manipulation" by asking for additional upvotes in order to release more information. Perhaps a lesson on why one shouldn't rely on unaffiliated third-party outlets to serve as your primary community platform.