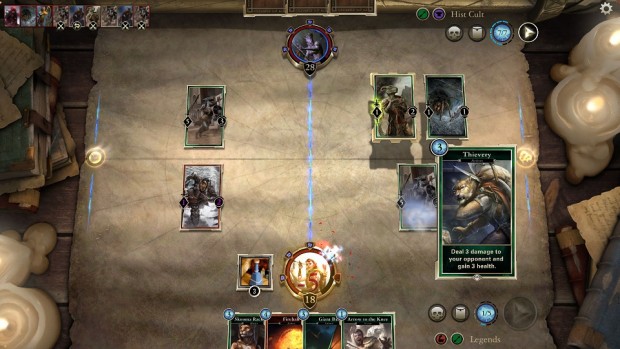 A few months ago, Bethesda Softworks changed developers for its free-to-play CCG The Elder Scrolls: Legends, turning its development over from Dire Wolf Digital to Sparkypants. Next week, players will see the results of Sparkypants' efforts, which involved rebuilding the game "from the ground up with all-new code."
The current game will be taken down for maintenance on Monday, Sept. 24 at 12:00 p.m. Eastern and — if all goes well — return 24 hours later. The gameplay will be the same, but there will be a number of aesthetic changes to the UI, along with better client optimization. Your card collection and progress won't be affected, and a new feature, Tournament Mode, will be part of the main menu but won't be accessible just yet.
Given the size and scope of the change, Bethesda and Sparkypants aren't unaware that "additional snags or issues" might arise, but they hope to have all their major bases covered in the accompanying blog post and FAQ. You can get a preview of the new version of The Elder Scrolls: Legends on the game's Twitch channel tomorrow (Friday) at 4 p.m. Eastern.