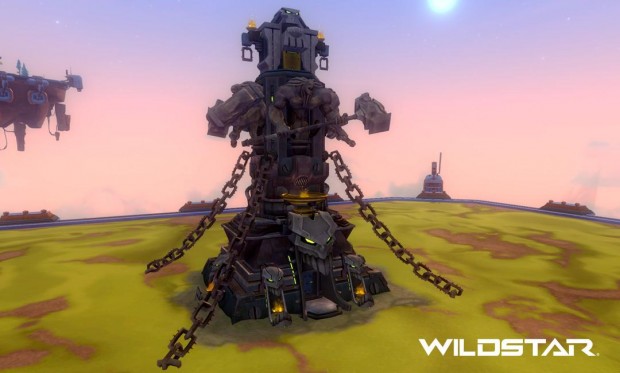 We've known that Carbine Studios intended to implement a Loyalty type system pretty much from the moment they announced that their MMORPG, WildStar, would convert to a free to play model. We knew that purchases would net you points and these points would be retroactive for all players that have ever spent money in the game and would carry forward with any new purchases made when the game actually goes free to play.
Now we get a bit more information from Carbine on exactly how many Loyalty points certain purchases are worth and what the reward tiers look like.
There will be 6 "Cosmic" tiers in all, with Carbine detailing the contents of the first three tiers. Each tier has 4 reward markers. For instance, Cosmic Tier 1 pays out rewards at 1000, 2,000, 3,000, and 4,000 points respectively. Cosmic Tier 1 does payout with a few costumes and pets, but more importantly, the tier can be used to unlock Full Guild Access, Full Circle Access, and Full Warparty Access as well as a discount on "Wake Here" when you die.
The full list of what certain purchases are worth and how many points are needed to meet each tier can be found here, but to give you an idea subscribing for a month nets you 3,000 points for each 30 day time card and CREDD purchases are worth 4,000 points (redeeming them is worth 1,000 points.)
If you watch the Free to Play Cast, you may be asking what 11 box purchases gets me since I went a bit wild when Carbine ran the Mystery Box Promotion. Here's the breakdown of all of my WildStar purchases:
1 Digital Deluxe Pre-purchase – 15,000 points
10 Standard Box Purchases (12,000 points each) – 120,000 points
2 Months of subscription, 30 days at a time (3,000 points each) – 6,000 points
4 CREDD Purchased, non redeemed (4,000 points each) – 16,000 points
My total day one Loyalty should be 157,000 points. Since Cosmic Tier 3 caps out at rewards for 24,000 points, I'll have to sit and wait on what I'll be entitled to in tiers 4-6.