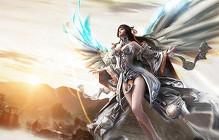 No MMO is complete without a bevy of content for PvE fans. Quests, dungeons, and raids are pretty set requirements at this point in the genre. So, of course, the Revelation Online team would want to show players what they can expect in this area of the game. My.com and NetEase released a PvE specific trailer for the free-to-play game earlier today highlighting the more hardcore PvE content; dungeons, raids, and World Bosses.
The MMO offers two kinds of dungeons, solo and 5-man — with the latter having up to 5 difficulty levels, each offering different rewards. A step up from that is 10-man raids, complete with hardcore mode. Beyond that are 20-man "ultimate"versions of the same raids. Finally, players can participate in guild-sized battles to earn the right to take on one of the six massive world bosses roaming the landscape.
Signups for beta are currently live on the Revelation Online site for anyone wanting to check out the PvE content for themselves.