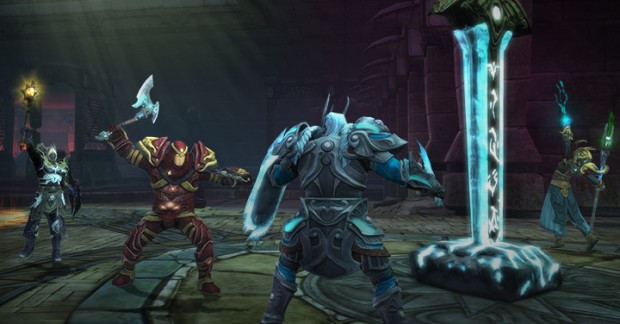 If you like Rift's PvP and are free today around 6:30 PM Eastern Time, you may want to take a peek at Trion Worlds' Twitch page. The dev team will be taking to the air waves (does anyone get that type of reference anymore?) to show off the new Assault Mode and the Assault on Bronze Tomb content being added into the free to play MMORPG when the "Into the Wilds" update goes live soon.
Assault Mode is an addition to Warfronts that challenges teams to attack and then defend a series of strategic objectives. Similar to other games that have this type of mode, Assault Mode players will be given a chance to attack and then will switch to try and defend.
Assault on Bronze Tomb is a whole new Warfronts map built specifically for this Assault Mode gameplay. Similar to Star Wars: The Old Republic's Voidstar PvP mode, two teams will take turn attacking and defending 3 consecutive sections of the map. Make your way through the Passage of the Fallen Heroes and you'll send defenders retreating to the Tomb of the First Settlers. The attacking team will want to breach this section and gain access to the final objective, the Aurentine Treasure Vault.
If you're not just content to watch the live stream, feel free to log into Rift's PTR as you can actually try out the new modes while your friends watch on the official live stream. In the mean time, you can read up on the new content here.