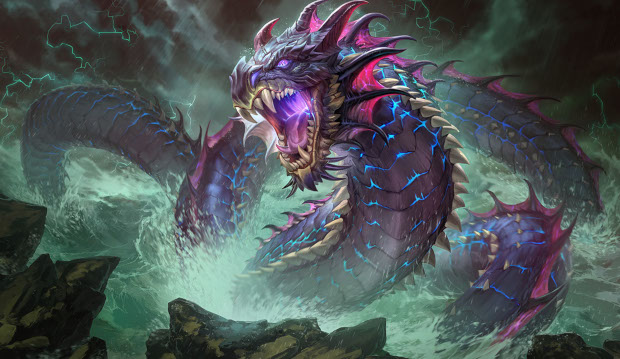 Jormungandr, the World Serpent of Norse mythology, is coming to SMITE and the dev team has decided to offer players a peek at what they're in for when he arrives. No, they haven't dropped a video yet. Instead, they've published a post on the SMITE blog explaining some of the behind the scenes design decisions intended to bring the massive god to the game without sacrificing who he is.
According to the post, Jormungandr will be the largest god in the game, towering over all the other gods. He also has a unique body type that anchors him to the ground. Players can probably think of depictions of the Loch Ness monster and how only portions of her body stick out of the water — only in Jormungandr's case, water won't be necessary. According to the post, it can be assumed that below ground, the World Serpent's body is infinite.
The post notes that Jormungandr has been in testing for over a year, partially because the dev team wanted to assure his size didn't prevent him from working within SMITE's existing rule set. As a result, they had to play with his size a few times.
If you'd like to check out some of the early concept art for Jormungandr and read the development post in full, you can find it all on the SMITE site.