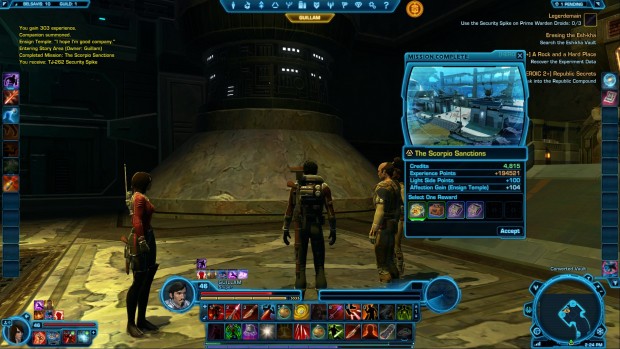 You may remember Star Wars: The Old Republic's previous 12x class experience boost promotion. Back when it originally ran, this boost was given to players who pre-ordered Bioware's Shadow of Revan expansion for the free to play MMORPG. You also had to be a subscriber.
If you missed out on that chance to catch up to your friends or finally finish off leveling that alt of yours, then May the 4th (great date to pick) should be a date you want to mark down…provided you also want to subscribe to Star Wars: The Old Republic.
Starting on the 4th and running until…well we don't have an end date actually…subscribers will once again be able to skip the tedium of The Old Republic's "filler" quests and stick with the class stories as each class quest will net you 12x the normal experience. I can tell you from my previous experience that you may not be able to stick ENTIRELY to the class quests only since you'll be out-leveling your gear very quickly. Pick up a few Flashpoints and other content along the way (if you don't have credits you can transfer to yourself) to balance out your gear progression.
Check out the official site for more details.