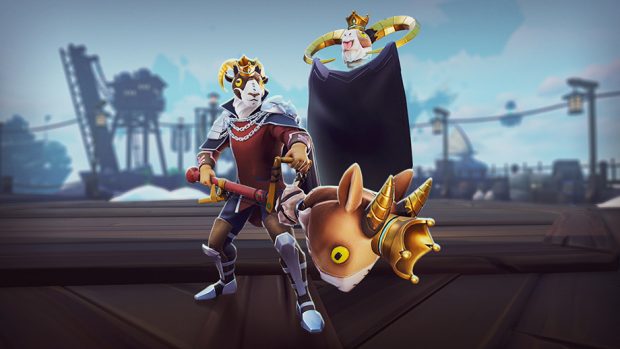 Slaying all those pesky behemoths can be tiring…so what's a hero to do? Celebrate Ramsgiving, of course! Luckily Dauntless has you all prepped and ready to go as the annual Thanksgiving game event will launch tomorrow, November 25th. Whether it is deals on cosmetics, farming up bounty tokens, or earning golden rams, there is something for every hunter out there.
Starting tomorrow, merchant Honest Ozz returns to Ramsgate complete with a plethora of items from Ramsgivings past and some new items for hunters to don. Make sure to take part in your daily coin flips and multiple bounties to collect golden rams and bounty tokens so you'll be able to snag up all of Ozz's wares. These wares include a few limited time items including the Li'l Big Ram transformation (shown above) and Benson's Beacon sparkler.
You'll want to act fast though as Ramsgiving only lasts 1 week and the whole event closes on December 3rd so make sure you redeem your bounty tokens and golden rams by then.