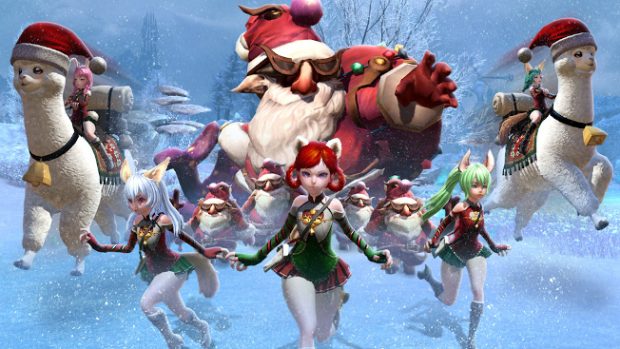 Look, the holidays are a fight. We all know that. So it makes sense that Tera decided to take that theme and run with it. Beginning today and running through January 1, the Yule War offers players a few ways to celebrate — one involving beating up Santa impersonators.
Players will find Big and Tiny Santas scattered around Westonia. Defeat them and earn gift boxes. Both types of Santas will drop a Santa's Gift Box, while the Big Santas have a chance of dropping a Santa's Big Gift Box. Of course, Big Santas will be more difficult to beat.
The other portion of the event requires players to complete select dungeons in order to receive Santa's Yule Treasure Map Box which contains either a Santa's Torn Map Piece, one half of a Santa's Yule Treasure Map, or the whole map. The map will point players to a specific location where they will encounter the Santa Cat. Follow him to your reward — one of three Yule Treasure Chests.
If that's not enough for you, there's also a little bit of something to get you in the giving spirit. From December 19th to January 2nd, players visiting the Golden Gift Box Store will want to stop by the Gifting Center, where they can buy a gift box for their friends — or themselves. They'll probably want to send them on though, as sending gifts earns rewards. A full breakdown of the reward system is available on the Tera site.