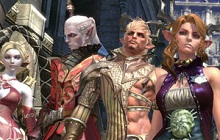 The Guilded Age, En Masse Entertainment's cleverly worded update for its action-combat MMORPG TERA, is now live. As you can probably tell from the title, the update greatly increases guild functionality and progression, as we detailed yesterday, and also includes some bonuses for new players.
In addition to the major changes to guilds and the addition of flying dragon mounts, which you can learn about on the TERA website, En Masse is also offering a free DLC package for new players on Steam. This "Free Player's Pack" includes a permanent green hood accessory, seven-day Zephyr flying mount, seven-day Dragonette pet that gathers loot automatically, and a seven-day 100% XP Boost.
And, while not included in The Guilded Age, En Masse does say that it's "teasing an overhaul" of the sorcerer class, coming in the Unbound update later this year. Given how the armor looks in TERA, I'd put money on it being some kind of striptease.