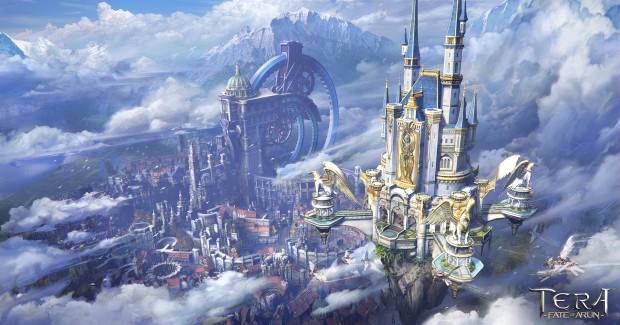 Ten days ago we reported on TERA's Producer Letter and detailed a bit about the upcoming February update which would add the much anticipated guild housing system, Skycastles. Today, En Masse Entertainment has announced that the Skycastles update will launch on February 24th.
Floating among the clouds above major cities throughout the breathtaking world of TERA, Skycastles are the ultimate symbol of prestige and accomplishment for the most dedicated groups of players. Available to the top-ranking guilds on each server via two new, ongoing four-week guild competitions that track guild points earned from dungeons, battlegrounds, and guild vs. guild battles. Each Skycastle can be customized to offer worthy guilds the ability to personalize their stake in the skies.
"There's never been a better time to join a guild, make new friends, or reconnect with old comrades in TERA," said En Masse Entertainment Producer Patrick "Treeshark" Sun. "Guild housing is a much requested feature from our players and we're excited to reward our dedicated fan base with a castle in the sky they and their guild can call their own."
In addition to Skycastles, this update will also add the new Sky Cruiser Endeavor dungeon, a hard mode version of the existing dungeon Bathysmal Rise, and the new Deadspire dungeon is slated for release in March.
Check out all of the update information on TERA's official website.