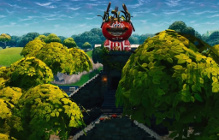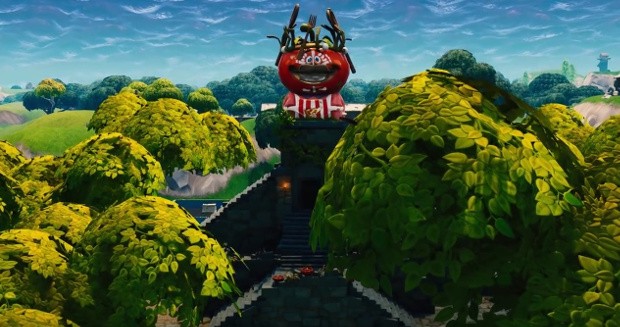 Back when the rift hit Fortnite — around the end of Season 4 — and sucked all kinds of things into another dimension, it took with it Tomatohead, the mascot of Tomato Town. Now, the big guy has returned. Only he's back as the centerpiece to a temple apparently built in his honor.
In a weird twist, a temple has been sucked back through the rift and is now sitting in the middle of Tomato Town. As PC Gamer notes, since it's a temple, the new structure offers players more landscape variation than the little town did. There's also apparently more loot to be had in this area now.
Of course, since Epic added the new temple, it only stands to reason that they'd drop additional content to go along with it. And they did… again… sort of. The new content — in the form of challenges — is available for anyone who purchased a Tomatohead skin. Successfully completing the challenges, which include completing matches, gaining XP, and hurting opponents, will earn the player a crown variant of the skin.