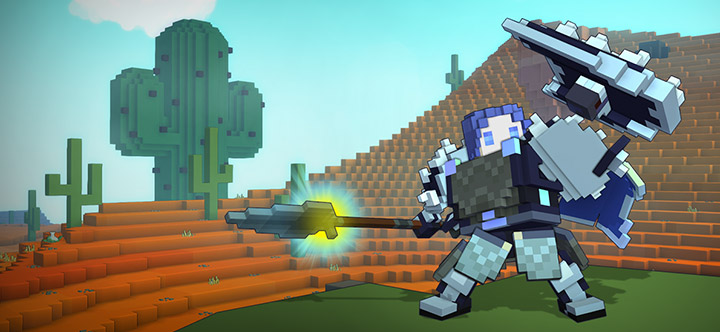 Trion has released an overview for Trove's new Revenant class. The Revenant is the latest class to join the voxel-based MMO, and is an armored spirit warrior featuring four "spirit"-related abilities. These abilities are:
Vengeful Spirits:
Vengeful Spirits is a passive skill with a basic left mouse button attack that stabs at enemies with your spear, and steals a small amount of their health for yourself at the same time. When your health has been depleted, a powerful Spirit Wraith will appear and return 50% of your health while fighting with you.
Bulwark Bash (right-click):
Bulwark Bash is a shield slam that damages anyone standing in front of the Revenant. You will need to be careful using this move, however, as it will aggro those enemies.
Spirit Spears (1):
This ability allows you to summon ghostly spears to attack all enemies in front of you. Damage is done based on maximum health and and will require you to sacrifice health for as long as it is cast.
Spirit Storm (2):
Spirit Storm summons a vortex of spirit energy that pulls enemies closer while firing blasts of energy. The blasts do double duty, healing your allies while damaging enemies. This ability has a cooldown of 20 seconds.
For more information on the Revenant, be sure to check out the official post on Trion's site.