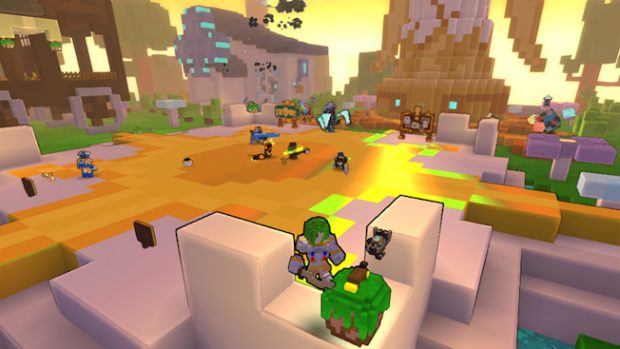 With the release of what they're calling the "Hubdate", gamigo is giving console Trove players a more interactive experience when dealing with the game's menu systems. What was once a plain, but functional system now allows player to interact via NPCs and other features.
Of course, the update doesn't just update the hub, but also adds new content to the game, such as two new delves bosses. It also adds new quests.
The hub won't be static either. As players can see via the Hubdate guide, the hub will change based on the seasons. In it, players can explore the Light's Den where Luxion can be found. Near the Sun Goddess Statue, players will be able to access the game's Store as well as the Claims UI, the Atlas, and the Radian Merchant. There is also a Club house where players can access a level 1 merchant and the clubit minting machine.
Also of note, since we're here and all, are the announcements for Trove's spooky season celebrations. The big Halloween banquet is coming, and will take place at the end of the month in the club world. But, before that, the devs have a little screenshot contest going. Players need to go to the club world and figure out what's changed since the banquet table was set. Rules for how to participate in the contest can be found on the game's site.
Also, Shadow's Eve is underway beginning today. During the event, which runs until November 4, not only is the Hub decorated appropriately, but there are some spooky quests, dungeons, and more to take part in.