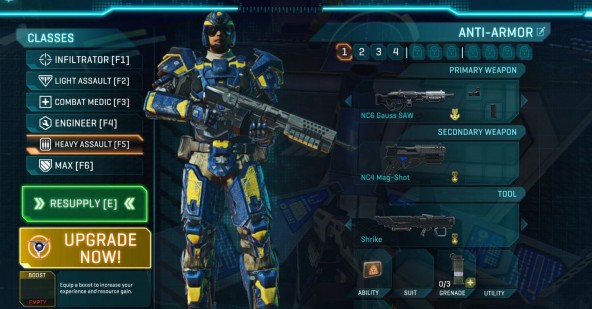 2014 has been a good year for SOE and their MMOFPS Planetside 2. Having implemented the majority of the planned performance improvements, SOE has finally turned its attention back to adding many of the more significant gameplay changes many of which are detailed in the recent video dev blog with Creative Director Matt Higby.
One addition Higby touted during the dev blog was the addition of the new mission system, engineered to help give players objectives based on the situation at hand in the current zone. These missions are specific to ground or vehicle troops and grant extra xp to those who complete missions as a squad.
A new patch released today on the Planetside 2 servers implemented this system, but not before also adding a controversial new "Upgrade Now" icon which prompts non-premium members to upgrade for increased benefits. The ads currently appear every few minutes regardless of whether you've previously declined the offer.
The appearance of the icon drew comparisons to pop up icons which appear on infected user desktops and incessantly prompt the user to use the advertised service. In an post on the official Planetside 2 forums, SOE has stated they are listening to player feedback and conceded the system is currently delivering the ads too frequently. According to SOE, players should actually only see a couple of ads during each play session.
The apparent bug is apparently doing more than irritate players. The bombardment of ads is currently causing server issues in addition to other separate equally crippling issues brought on by the March 27th patch.
Naturally, observing the official forums and Planetside 2 Reddit community it's clear players are upset by the distracting addition regardless of its frequency particularly those who've already invested a great deal of real money into the game. There is no current way to disable the pop-ups and only subscribing members aren't shown the ads. SOE has yet to elaborate to what extent they plan on what they plan to change based on player feedback.