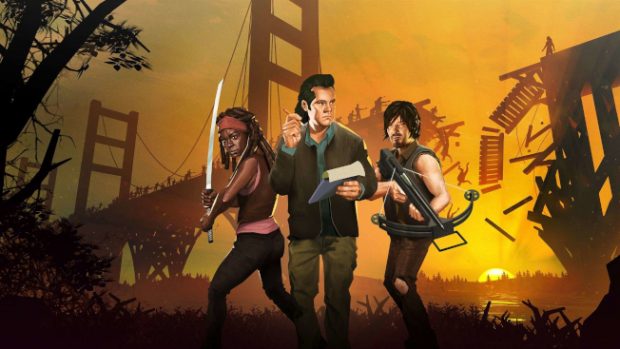 This week, the Epic Games Store is offering players two freebie game options that are a bit different from the norm. The first is a crossover between two IPs — the puzzle, strategy game Bridge Constructor and…The Walking Dead. It's appropriately titled Bridge Constructor: The Walking Dead. In this game players fight walkers and dangerous human factions while building bridges to make their way through the landscape to safety. If they're really good, players can use the bridges and other structures to aid in their fight.
Team up with classic Walking Dead characters, create safe passages for them and their vehicles, and use objects, explosive, traps, and more to keep the enemy at bay.
The second game is an RPG strategy game set in Victorian England. Join the English citizens as they pilot steampunk mechs in an effort to defend the country from invading forces. Titled Ironcast, (after the names of the mechs) this game features turn-based strategy combat as well as a roguelite campaign mode with permadeath.
Normally, Bridge Constructor: The Walking Dead will cost you $10 while Ironcast runs $15. So, if you snag them you'll only be saving yourself about $25. But, these might also be the kinds of games that would generally fly under your radar for something else, so grabbing them for free isn't a bad idea. It is worth noting that Ironcast has a few bits of DLC running $4-$5 each.