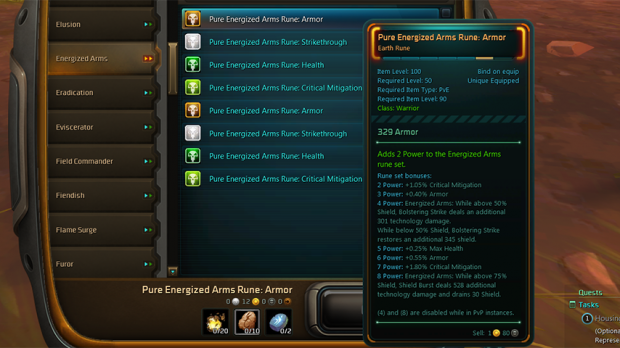 WildStar's free to play beta continues into its second phase tomorrow afternoon as Carbine Studios takes the day today to review data from the first closed beta phase and to add new items into the game's free to play version. Coming as part of those changes is a Runecrafting overhaul that will (mostly) be on the PTR soon.
Previously, Runecrafting was a terribly complex and tedious system, particularly for new players trying to learn the system. At its core, Runecrafting was a way to augment your WildStar gear with specific stats to further tailor your specific character. Most MMORPG players get the idea of "gemming" your gear in most titles, but the creation and execution process in WildStar left a little to be desired. In the free to play release, WildStar's runecrafting has been streamlined to match the new combat stat changes and certain elements with trigger a set list of bonuses, for instance Fire runes will focus on damage modifiers (like Critical Hit). This means players will know what stats are available to them from a preset list simply by knowing what type of rune slots they have available in a certain gear piece.
Fusion, which was previously an additional element type, is now being treated as "universal" element. A fusion rune can go in any rune slot and a Fusion rune slot will accept any rune type. "Specials" (proc abilities some specific gear had) have been made into runes now allowing you to keep that special proc you love even while upgrading your equipment. Artifact gear retains their own specials though that cannot be transferred to other gear. The number of runes you'll be dealing with has also been decreased. Take a look at the full details to see what you can expect when you log in to the free to play version of your existing character.
Be sure to check out the list of loot changes coming with the free to play version of WildStar, too!