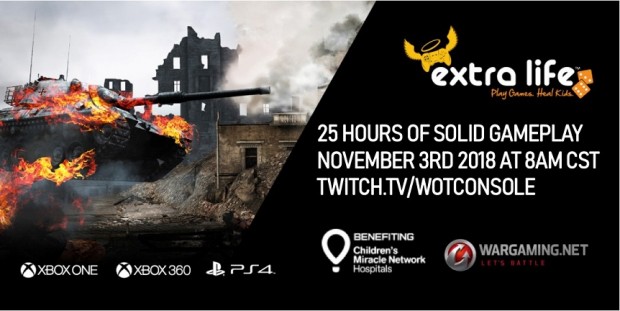 Usually, acquiring new vehicles in World of Tanks: Mercenaries requires a significant outlay of time or money — or both. This weekend, you can pick up some new stuff just by watching the game's console Twitch channel this weekend as the Chicago and Baltimore offices host a 25-hour stream to benefit charity as part of the Extra Life Marathon Weekend.
In addition to battles, the stream will host Q&A's and interviews with the dev team — and yes, there will also be giveaways: specifically, the Atomic Centurion, the Warlord Panther, and Trinity Mk II, as well as t-shirts and premium time. If you want to take a more active role, you can get into the game and destroy a gold-camouflaged tank piloted by WG staff to win big XP boosts and a First Aid Kit.
As for the charity part of it all, Wargaming will be streaming "to generate backing and awareness for local children's hospitals via the Children's Miracle Network Hospitals." Learn more about the event — which starts at 9 a.m. Eastern on Saturday and runs until 9 a.m. Eastern on Sunday — and how you can contribute on the World of Tanks console site.