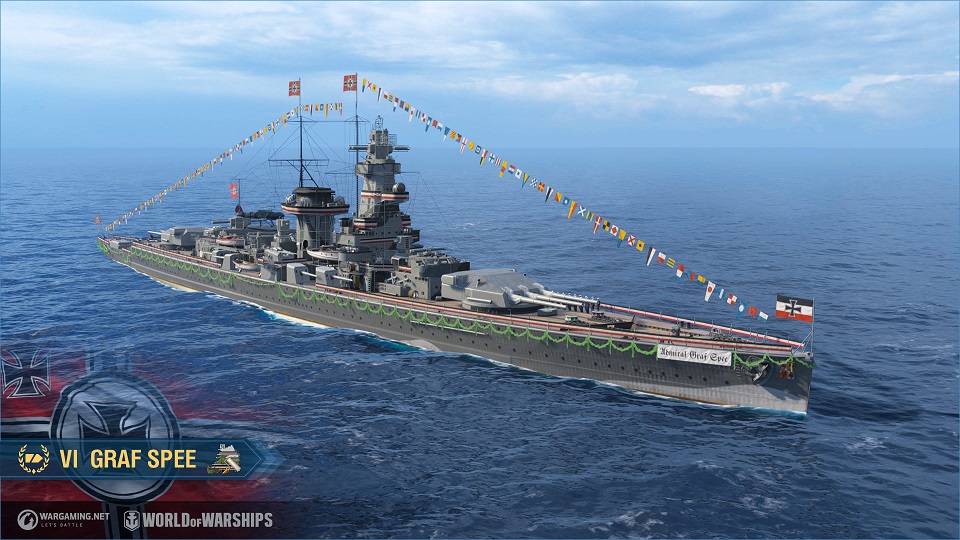 What's up, dock? In World of Warships, it's the new dockyards in Update 0.9.5 that will facilitate the building of two ships, the Admiral Graf Spee and Odin. The 20-phase building process will continue through update 0.9.6, with the Graf Spee awarded at number 10 and Odin at the 20th spot — the final two of which will require Doubloons.
Combat Missions are also getting an overhaul in this update. In addition to a new UI, some missions now have "or" conditions, so completing them only requires one of the two conditions to be met. Post-battle descriptions of your mission progress have also been enhanced.
The Soviet cruiser branch has been reworked, with the Tier X Movska and Tier V Kirov being replaced while becoming available for purchase only with Coal from the Armory. Also being added to the Armory is a new Japanese battleship Shikishima and Tier IX German cruiser Siegfried. The Armory has also now allows you to preview camouflages before purchasing.
Visual tweaks in the update include new lighting model and enhanced HDR technology for several maps and even some ports and the designer's table. Finally, 0.9.5 also brings with it new a competitive Ranked Sprint and Clan Brawls. For more on everything included in today's update, head on over to the World of Warships site.