Preview: Devilian Online Update 1.4 - "Alvir's Legacy"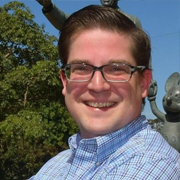 By
Michael Byrne
, Editor in Chief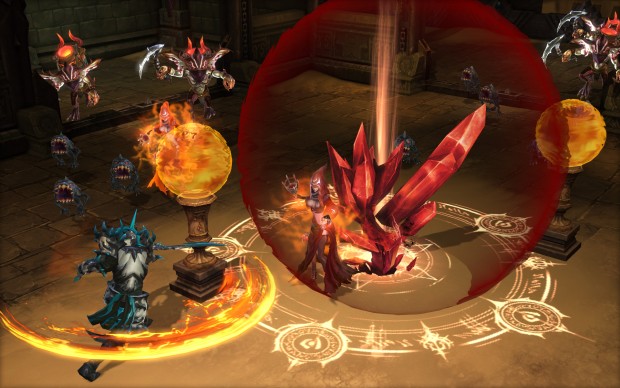 Devilian players may have been excited to get their hands on the latest patch, 1.4 Alvir's Legacy, last week but had to wait due to a few delays. Trion Worlds is ready to go with a slew of changes to the game, a new level cap, and even new dungeon modes and I got to sit with the Producers and watch some gameplay in the Gimmermire dungeon and bring you my first impressions on what the patch has in store for players.
First, in classic dungeon crawling fashion, new dungeons and new dungeon difficulties have been added. A level cap increase from level 54 to 56 has also been instituted but don't worry, the new dungeons aren't locked behind being at max level. If you're sitting at 54 now, getting to 55 will be enough to grant you access to the new content. The dungeon I saw, Glimmermire, looks great. It's a dank, swampy looking place with multiple branching paths and monsters galore. While the dungeon itself will be the same every time you enter it, your objectives won't be as they are generated randomly in different locations each time. You'll still want to search almost every path though as you're pretty much guaranteed to find extra treasure down that path that had your objective last time through but doesn't have it now.
Dungeon difficulty is getting a massive overhaul as well with the additions of 4 new heroic and hell mode dungeons, 1 new Archdevil Dungeon, and a brand new dungeon type: Heroic Archdevil, which will challenge even the most battle hardened half-devils. Even being a bit overgeared for the demo, our guides still had to work together on bosses to avoid deaths. New mechanics (such as add spawning summoning standards) also are waiting to destroy overzealous adventures. It looks fun, but I have to say it also looks like more of the same. Dungeon dive, rinse, repeat...but hey, that's the type of game Devilian Online is, isn't it? So you probably expected that.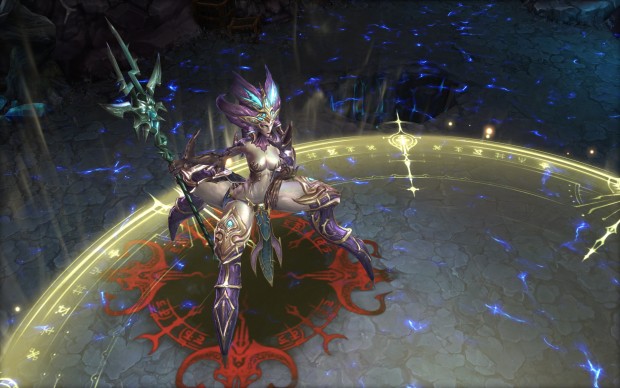 In keeping with the dungeon crawling loot fest that is Devilian Online, new gear sets are being added on both the PvE and PvP sides of the gaming board. These sets include the Blaze armor set, Dark Knowledge armor set, Wicked Soul armor set, Sacred armor set and more. Players who emerge victorious in PvP battles will now earn a new type of currency, Victory Certifications, which can be used to obtain unique cosmetic items. Even a new artifact set is coming into play. Alvir artifacts are a great way for Devilian players to increase their power very quickly...but they aren't exactly quick to earn. Leveling these new artifacts to +9 even opens up the ability to make them "Greater Alvir Artifacts." This takes a lot of work, as anyone with their Alon artifact knows. The good news? If you spent the time getting your Alon to +5 or greater, you can exchange it directly for one of the new Alvir Artifacts and save some time.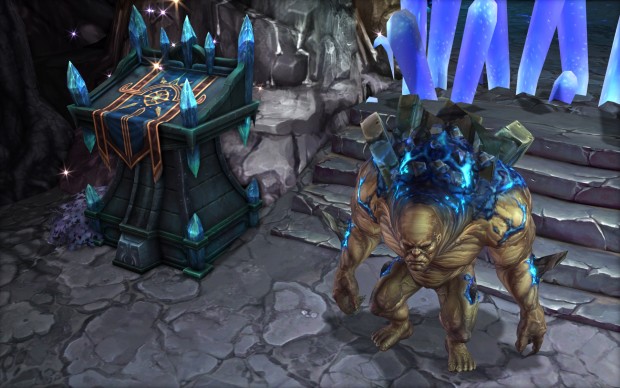 While I didn't get to see them in my preview session, a new currency that should help out new players quite a bit will be introduced in this patch. "Support Medallions" will be awarded to players every 5 levels as they are leveling up. You'll get a crate of them that awards you with a number of medallions equal to whatever level you obtained. These medallions can be used on inventory expansions, Gemmed Talisman Boxes, and other items that will prove very beneficial in the leveling process. If you're a Patron, you'll receive double the medallions each time you are awared them. I like little "helper" items like this along the way in free-to-play games. In my book, it makes getting into the game MUCH easier and in the end you're probably more likely to spend money on a game you've put more time into, so it's a win-win.
There really isn't anything earth shattering being added to Devilian in patch 1.4. However, this update does seems to add some solid content that is sure to keep the dungeon crawling and loot-festing at a high for max level players and in the end, isn't that what it's really all about? I took some time to ask the team how Devilian was doing overall and how the playerbase was receiving the title in the West. The team said the latest Tempest class update was very well received, the lowering of the PvP level restriction was a huge plus, and new additions like the random treasure hoarders all worked well in directing players into the fun content available in the game. While they wouldn't give specific numbers, they did allude to Devilian doing well. We'll see if the stream of new content continues to hold player interest.
My thanks to the team at Trion Worlds for taking the time to preview the latest patch for us! Be sure to check out the blog post on the official forums for more info!
---
About the Author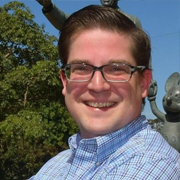 Michael Byrne
,
Editor in Chief
Mike "Magicman" Byrne has been a part of the MMOBomb family for years and serves as the site's current Editor-in-Chief. His love for MMOs and gaming in general has led him to covering games for numerous gaming websites including Gamebreaker TV and XIV Nation where he proudly displays his fanboy flag for FFXIV:ARR.
---
Read Next
You May Enjoy