Preview: Venture Into The Untamed Wilds And Take On An Angry Tree In Dauntless's New Update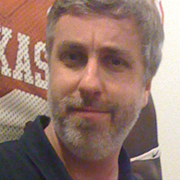 By
Jason Winter
, News Editor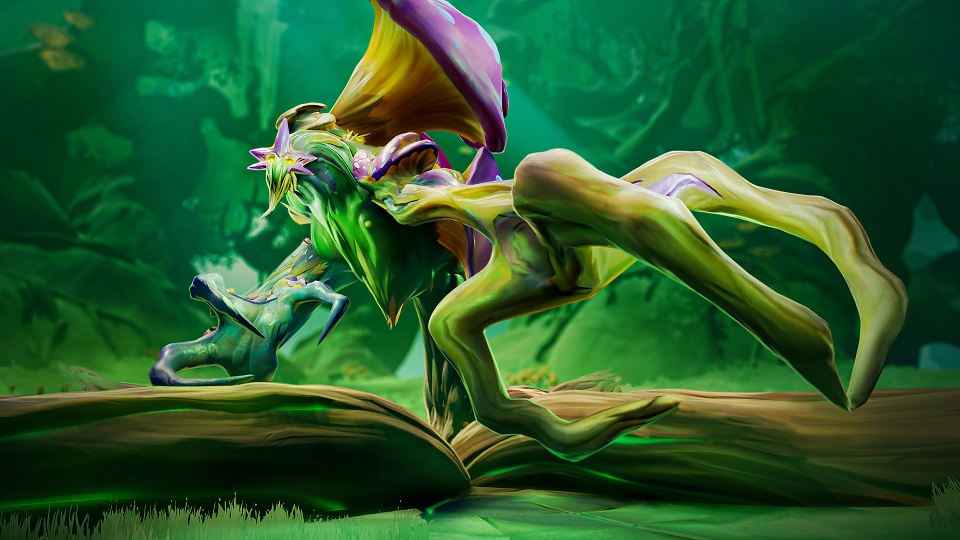 Phoenix Labs is coming at you with a new batch of content for Dauntless, and you know what that means: Another vicious Behemoth to torment you as it leaps around the battlefield, rips you to shreds, and gives you a wedgie – maybe all at once.
Actually, the piece de resistance of tomorrow's Untamed Wilds update only does one of those three things, but we'll get to him … it … later. Do Behemoths even have genders? If they don't, how do they make baby Behemoths?
Maybe that's not the kind of lore you want in Dauntless, but if you want other lore, this update's got you covered. The new island of Arborhome has a fairy-tale-like dense woods-y feel and even comes complete with a nice old lady, Granny Strega, to give you quests to help you on your way. She'll get you going on two new missions that tell the story of the area and set you up for the new baddies you'll be bringing down with your weapon of choice. In the bit that I got to play, she had us collecting mushrooms that we had to deposit into a cauldron for … well, I'll admit I don't exactly remember why, but when the nice old lady in the woods asks you to collect mushrooms for her secret potion, you do it without asking too many questions.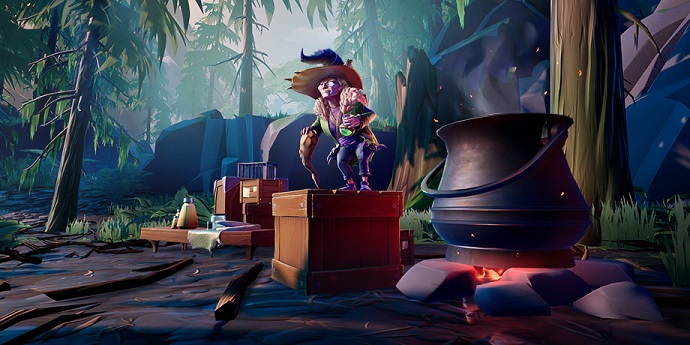 You can repeat the missions as often as you like, earning rewards both for that and for the Strange Horizons Hunt Pass, which is active until Oct. 22. It offers rewards with a poison/alchemist theme, including the syringe-like Alchemancer's Needle skin for the war pike. The free version of the Hunt Pass offers one armor set, while the paid version has two up for grabs, as well as offering up enough currency to offset the cost of the Pass. Once you get past level 50, on either Pass, you'll accumulate Vault Coins, which can be used to acquire items from previous Hunt Passes.
The reason for the rewards' theme is that poison plays a major part in the Behemoth fights on Arborhome. They'll drop puddles of the stuff that you don't want to remain in for too long, and there will also be nodes that sprout patches of thorns that damage your Slayer and slow them down while making it impossible to dodge. All in all, you really get a feeling during these battles that you're fighting against a hostile forest that would like to make fertilizer out of you.
At the end of the new Escalation is Agarus, a giant plant-like Behemoth that sits at the center of the map. Its immobility doesn't make it an easy target, though. As usual, it will thrash about, dishing out pain to anyone within its reach and also sending out slow-moving and hurtful green orbs that hone in on Slayers. At various times during the fight, it will lash out with three giant roots that extend to the edge of the map. Agarus is invulnerable while they exist, so you'll need to hack them apart before continuing the fight.
As someone who has issues dealing with fast-moving Behemoths – blame that on my preference for a heavy and slow hammer – Agarus seemed a touch easier than the Escalation end boss I had to deal with last time, the shadow-warping Thrax. He's no cakewalk, though, despite my being helped by cheating devs. I think Dauntless players will enjoy the change of pace offered by Agarus and the rest of the Untamed Wilds content, as long as they stay a little wary of old ladies in dark forests offering them mysterious potions ...
---
About the Author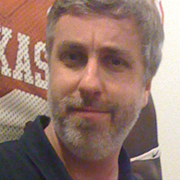 Jason Winter
,
News Editor
Jason Winter is a veteran gaming journalist, he brings a wide range of experience to MMOBomb, including two years with Beckett Media where he served as the editor of the leading gaming magazine Massive Online Gamer. He has also written professionally for several gaming websites.
---
Read Next
You May Enjoy