Talking Trove With Game Director Andrew Krausnick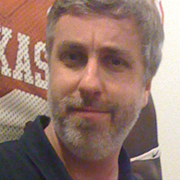 By
Jason Winter
, News Editor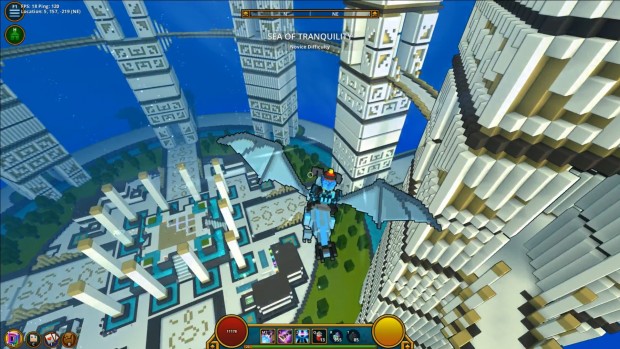 My pattern with new free-to-play games that I'm not super-interested in often goes something like this: It goes into open beta, I play around with it for a few hours, just to get a basic feel for it, and then I ignore it for a year or so until I feel the need to jump in again. If there's no work-related reason to do so, that need can take a while to manifest, and usually doesn't happen until the game fully launches, when all the features are in place, there are no more wipes, and the bugs have been (mostly) squashed.
That was my experience with Trion Worlds' Trove, which went into open beta last November. Now it's ready for prime time, launching in full on July 9. I hadn't checked it out since those early days, so I got a guided mini-tour from Game Director Andrew Krausnick in advance of the launch to fill me in on everything that's come to the game over the past eight months.
My "try-it-and-leave-it-until later" philosophy wasn't new to Krausnick, who said a lot of players had that same approach. "A lot of our goal going into launch has been to build things out and make it feel like a complete experience," he said. "We wanted to make sure we had depth as well as breadth."
OK, so what is that depth? At its core, Trove is a simple game of exploration and building, all set in a cartoonish voxel-based world. Trion Worlds has added a lot of material since then, including dragons, which start out as tiny hatchlings that players can groom into ferocious mounts. A recent nautical-themed update added ships and fishing to the game, and new classes have been added to the game regularly.
But it's hardly a surprise to hear that a game is adding content during (or after) its development. What Trove has also done is introduce new forms of gameplay, to put that content – and players' imaginations – to good use.
Treasure Isles arrived with that Fish 'n' Ships patch, and they represent Rift-like dynamic events where groups of players can gather to plunder and pillage en masse. There are also dangerous, but rewarding, sky realms, which have at their dark heart a... well, Dark Heart, and it's your job to smash it open and grab all the loot. In addition, many of the dungeons have been crafted by players and approved by Trion, providing a near-endless supply of new content.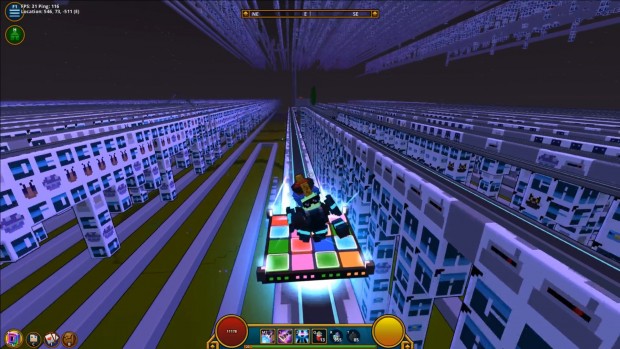 Club worlds are still a thing, too, and they've advanced light years since my first look at the game. I remember being accepted into a club – by one of the MMOBomb viewers, thanks! – and marveling at the structures they'd built in their own private dimension. Krausnick took me on a brief tour of a couple of these worlds, one with towering spires, placed brick by brick over a period of time I don't even want to think about.
He then took me to another world, crafted by one player, who had taken the game's music system beyond its limits, implementing a moving platform you could ride that led you along a railway that played music as you went. That's how I think it went anyway; you can see from the picture that words don't do it justice. Well, my words, at least, as Krausnick described it as, "one guy went crazy with it (the music system)." That's a professional developer's opinion, folks!
I was also able to get a brief description of the PvP system coming to the game soon, which was briefly mentioned in the producer's letter a month ago. It'll be a kind of hybrid PvE/PvP system revolving around a resource called blood shards. Every time you kill a PvE monster, you get a blood shard, which increases your power. Kill another player and you get all of that player's blood shards. At the center of the map is a blood dragon, which you'll need plenty of blood shards to defeat. Kill him and you win the match. That sounds a lot more interesting than the standard attack-the-point-defend-the-point stuff you see in most MMOs.
Trove was first announced shortly after the reveal of EverQuest Next and Landmark, and I'll admit to somewhat downgrading it in the wake of SOE/Daybreak's flashier voxel-based game. Those might still prove to be blockbusters (no pun intended), but Trove appears to be a quality game in its own right, and it's beaten those two juggernauts to market, launching July 9. Maybe it's time to jump back in.
---
About the Author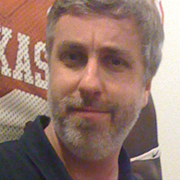 Jason Winter
,
News Editor
Jason Winter is a veteran gaming journalist, he brings a wide range of experience to MMOBomb, including two years with Beckett Media where he served as the editor of the leading gaming magazine Massive Online Gamer. He has also written professionally for several gaming websites.
---
Read Next
💣 Feature |

Love It Or Hate It: The Lord of the Rings Online
Some free-to-play games are more polarizing than others, with some sides taking the stance of "great, totally non-exploitative implementation" and others thinking "total pay-to-win trash." We'd like to see on what side of the ...
By Jason Winter - 7 years ago
You May Enjoy