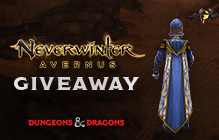 Neverwinter Gift of the Noble Guard Pack Key Giveaway (PS4)
FREE
MMOBomb and Perfect World Entertainment have partnered up to get our users a free Gift of the Noble Guard Pack Keys with in-game items for Neverwinter (Playstation 4 version only). Each pack includes an exclusive Cape of the Noble Guard and more!
To unlock your key instantly you just need to complete all the steps on the top. Get your key now while supplies last!
This Gift Pack contains the following:
⦁ Cape of the Noble Guard
⦁ Stone of Health
⦁ Adventurer's XP Booster
⦁ 5 Injury Kits
To Redeem Your Code:
Learn how to claim your code by visiting this link.
Note:
1. Code expires December 31, 2022 and is only available for the PS4 version of Neverwinter. Please note that these items are Bind-on-Pickup and may only be redeemed once per account.
About:
Following the events of Infernal Descent, the previous major update for Neverwinter, Avernus sends players on a thrilling journey across the Wastes of Avernus, the first layer of the Nine Hells, where players will meet Lulu, a curious hollyphant and Archdevil Zariel's old companion, who arrives in what remains of the Vallenhas stronghold...
More Giveaways:
Games You May Like