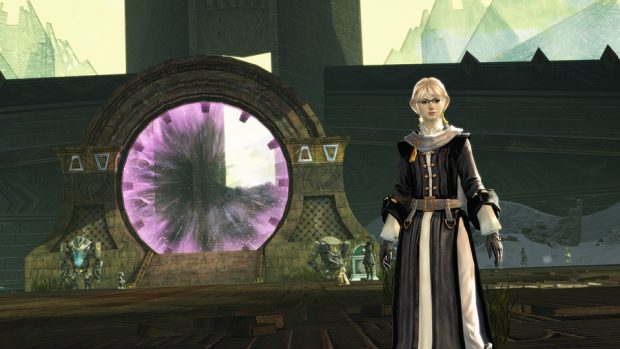 With their overwhelming desire to see classic Guild Wars locations like Cantha reproduced in Guild Wars 2, it might be said that some fans of ArenaNet's MMORPG are living in the past. With the next GW2 update, Visions of the Past: Steel and Fire they'll be able to literally live in the past, thanks to one of the original game's iconic locations.
The Eye of the North is your new upgradeable hub for adventures, and it includes a portal for strike missions. That's not the only piece of nostalgia that players will be able to enjoy, as four missions from Season 1 of GW2 will be replayable for the first time.
In the current day, you'll join up with Ryland Steelcatcher's companions and "blow stuff to smithereens with a cutting-edge charr tank." There's also a new version of the earlier story mission, Darkrime Delves, that you'll get to experience from Ryland's point of view. For all your efforts, you'll be able to unlock variant skins for the greatsword, sword, rifle, pistol, staff, as well as Stone Summit and Runic armor.
The new update drops on March 17. Check out the page on the GW2 site for more information.