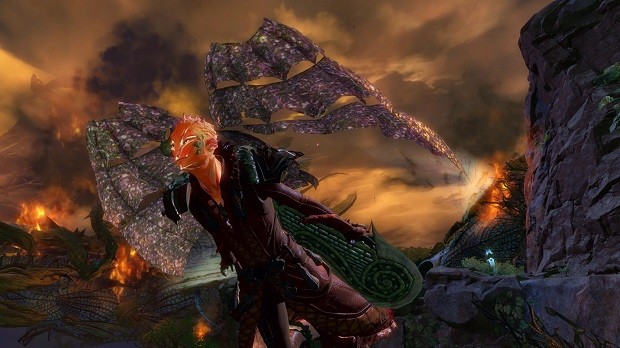 Guild Wars 2 Game Director Colin Johanson has revealed ArenaNet's near-future plans for the game in a State of the Game update released earlier today. In its broadest sense, Johanson says that focus will be on expanding the depth of current features, rather than adding totally new features, and his task list describes changes to nearly every type of gameplay in GW2.
One of the bigger pieces of news is that when the next update hits on Jan. 26, you'll be able to glide anywhere in Tyria, so long as you have the first gliding mastery tier unlocked. It's a great change, and one that lots of players have been asking for, but it could cause issues in areas and terrain where gliding wasn't intended to be used. At the very least, it will make certain vistas and jumping puzzles much easier than they were intended, but that's probably a small price to pay.
Also receiving updates are the Shatterer getting an overhaul to make him harder (and offer greater rewards); Fractals and World vs. World; new controls for action camera, snap ground targeting, and autotargeting; and profession balance, which were addressed in brief yesterday.
Other plans for early 2016 include a Lunar New Year event, new raid wing, and a new PvP league. Looking down the road a bit, Johanson describes the return of the Living Story as the dev team splits its time between regular content updates and the game's next expansion, along with new Fractals and a major WvW revamp. It's a big list, and we'll see how it all plays out over the course of 2016!