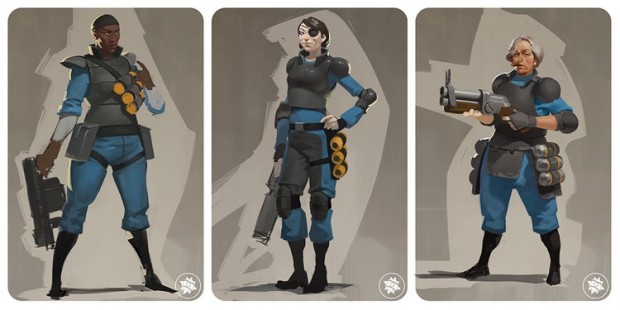 All nine of Team Fortress 2's characters are male — and yes, that includes the Pyro, despite some people's belief in the contrary. But at least one person at Valve considered the alternative.
Former Valve artist Drew Wolf has revealed on his personal blog several character designs for female TF2 characters. They were part of an "internal pitch project" at Valve that would have preserved each character's class function but in "entirely new character[s]." Meaning, we suppose, that the Demoman might not have been a drunken Scotsman or the Scout a wise-cracking Bostonian.
The characters presented on Wolf's blog are still instantly recognizable. My favorite is the cigar-chomping "old lady" Demoman — er, Demowoman — who looks like she gives exactly zero shits about everything and everyone. Curiously there doesn't seem to be a full-color, finished image of a female Pyro. Maybe it really was a woman all along!
Wolf also has concept art for various Dota 2 characters that he worked on and ones "that were intended to to expand the DOTA universe" but didn't make it in. The rest of his art's not bad either, so check it out.