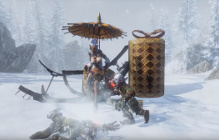 Christmas is just a few days away and everyone is getting into the holiday spirit — including the developers of Bless Online. Neowiz released a cute little video featuring some mischievous little creatures getting a bit more than they asked for in their "Blessmas" present.
I know… It's terribly punny.
Bless entered its second focus group test in South Korea recently, following a delay of its launch. For more information on the free-to-play game, be sure to check out the official site.