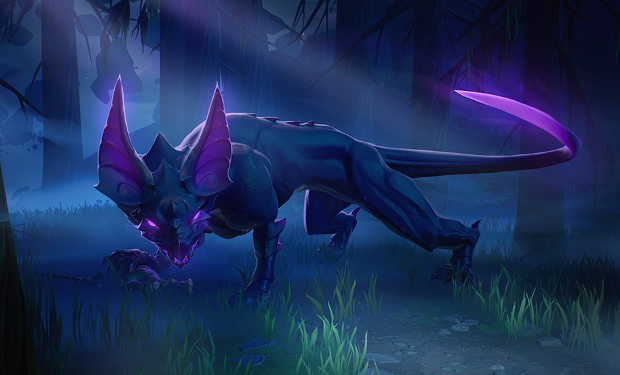 Phoenix Labs is finally ready to show off Dauntless' new Behemoth — promised as part of the Dark Harvest Halloween event. The Riftstalker is a new umbral Behemoth (that reminds me a bit of Kova, Honerva's pet in Voltron).
A purple, cat-like behemoth with bat ears, the Riftstalker can move through umbral rifts into other dimensions. It can also drag any Slayer that gets close enough for it to catch through the rifts with it. Players who get pulled through these rifts will end up in a dark dimension where the Ristalker can attack from any angle thanks to its portal hopping ability.
The risk is worth it, though. Anyone who manages to defeat the Riftstalker will earn Umbral trophies that can be used to create a completely new set of armor and weapons.
If you'd like some information on the design process behind creating the Riftstalker, Phoenix Labs published a detailed post on the critter and how they got him to work on the Dauntless site.