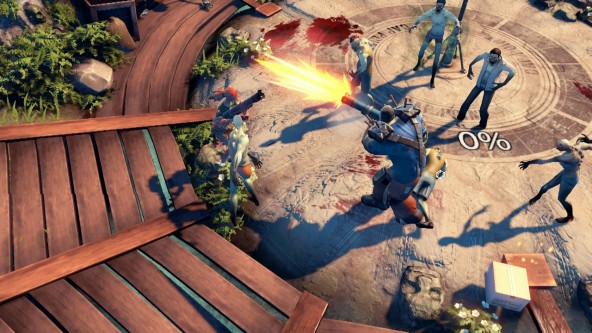 About a year and a half ago, Spunkify and I did what I swear was a BombLive for Deep Silver's Dead Island: Epidemic, the self-proclaimed "ZOMBA" (Zombie Battle Arena) by Deep Silver. I can't seem to find that video on the site or on YouTube, but here's the First Look if you've forgotten what it was about. Strangely, I actually kinda liked it, and it was something I always poked into every few months to see how it was coming along.
I say "was" and "liked" because Deep Silver announced earlier this week that the game, still in beta, would be shut down on Oct. 15. In the meantime, Deep Silver will heavily discount characters and boosts to give you something to spend your currency on. There's no talk of any refunds being offered.
Back in July, Deep Silver severed ties with Dreadnought maker Yager, which was developing Dead Island 2, so perhaps there needed to be a shuffling of resources and DI:E got caught in the crossfire. It's too bad, because I thought Dead Island: Epidemic did some clever and unique things to shake up the standard MOBA gameplay, from its setting to crafting to three-team battles. It might have just been a little too niche to, well, survive.