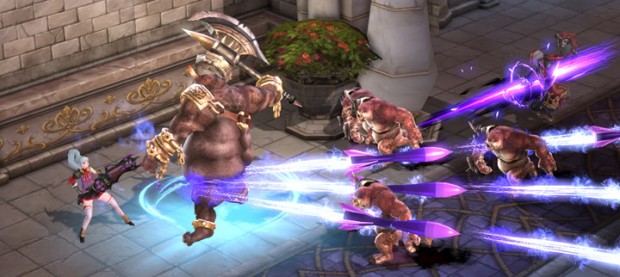 Take your typical mage's burst damage capabilities, throw in the delicate nature of the squishy mage, and add in an hunter's penchant for ranged weapons and you get the Cannoneer class in Trion Worlds' upcoming Devilian Online release.
The free to play game uses a mix of keyboard and mouse controls when it comes to movement and attacking and the Cannoneer uses that combination to deadly advantage. With a Devil form that is able to escape movement impairing effects and take down foes with a single shot, the Cannoneer has three different specs for players to choose from:
Gunslinger: Use a range of instant AoE attacks, slows, and traps to snare your enemies while running and gunning your way to victory. For Gunslingers, mobility is key.
Demolisher: Demolish armor with debuffs and blast devils to smithereens. Your damage will ramp as you attack, but you'll need to stand your ground to get the full effect.
Opportunist: Trap your enemies when they least expect it and ignite the ground to light foes on fire. The opportunist uses cleverness and trickery to set up surprise attacks.
Check out the full class reveal on the official Devilian website.