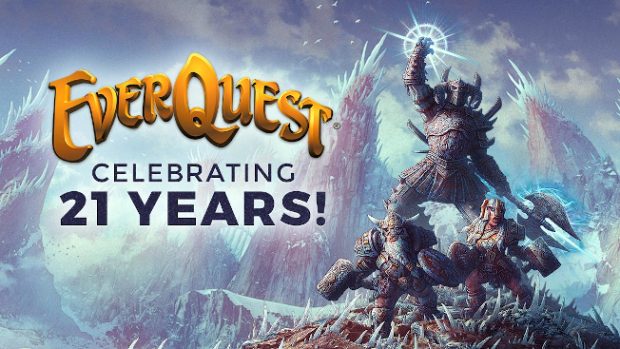 Twenty-one years after launch, EverQuest is still kicking around. That's kinda saying a lot for an MMO — even if it's not as big as it used to be. In celebration of the anniversary, Daybreak Game Company has come up with a few treats for players. This includes a Heroic Level 85 character boost for All Access members. The boost will be available to pick up until May 10. There's also the traditional 50% bonus experience event that players can take advantage of until April 1.
The celebration also includes some player designed anniversary quests. These quests were submitted at Fan Faires and can be found in the Plane of Knowledge. The first, "Fancy Feast", is given by Maitreya the Maitre D'. The second, "I Guess This is Growing Up", will need to be obtained from Emissary of Erollsi Marr.
On another note, the anniversary announcement also contained some server information. First, two new TLP servers have been announced. These are Aradune and Rizlona. The rules for each server can be found in the announcement. Second, the post offers some details on upcoming server mergers.