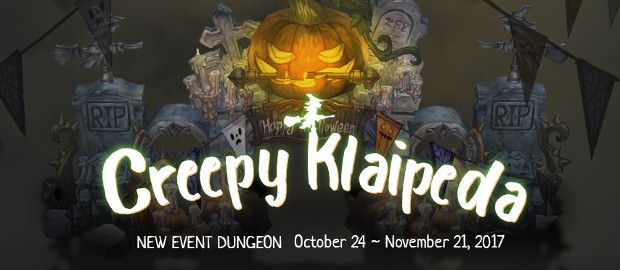 IMCGames is celebrating Halloween in Tree of Savior with a brand new competitive dungeon. Beginning tomorrow (October 24), players Rank 3 or higher can participate in the "Creepy Klaipeda" dungon. The dungeon opens every hour on the hour and can be entered up to three times a day.
Once in the dungeon, players will be fighting monsters in order to obtain Sugar Treats that can later be converted into Odd Candies and used to purchase rewards from Scaredy Scarecrow.
Of course, there's a bit of a trick to this dungeon and collecting the treats. First of all, players won't have their usual attacks available to them. Instead, they'll use a Candy Dash skill and some basic attacks. Next, the treats can be lost in the dungeon as well as gained. If players are hit by a mob, they'll lose treats, and if they step near a type of bead on the ground they'll lose some as well. So everyone will need to be aware and keep dodging.
More information on the dungeon and its ruleset is available on the Tree of Savior site.