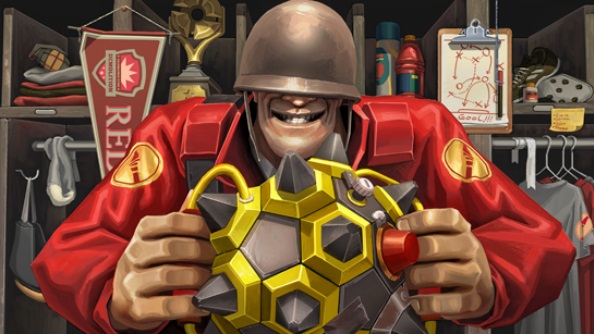 First there was Huttball in Star Wars: The Old Republic. Then there was Rocket League. And now, Valve is getting into the goal-scoring game with a new mode in Team Fortress 2 called PASS Time.
Scratch that — it's not just Valve doing this, but a collaboration with Bad Robot Productions, JJ Abrams' production studio, responsible for Lost, Alias, and the new Star Trek and Star Wars movies, among others; and Escalation Studios, which tried its hand a the e-sports biz a few years ago with a game called Severity. You can read about how all these diverse companies came together on the Team Fortress 2 page.
But what about the new game mode itself? In PASS Time, players can pick up the "jack," a.k.a. ball, which replaces their main weapon and run, shoot, and pass it down the field in the attempt to put it in the opponent's goal. Speed boosts and jump pads add to the action, and if the match ends in a time, "that's when true Sudden Death kicks in."
PASS Time is currently in beta, and Bad Robot has expressed excitement at being able to develop a product with the input of fans, as opposed to how movie production usually goes. Give the new mode a try and let them know what you think!