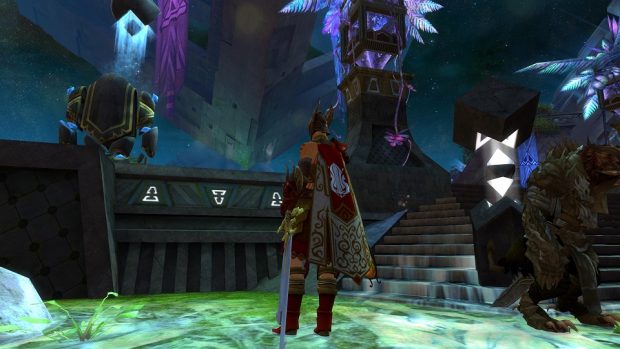 When the first Guild Wars game launched in 2005, players wore capes to highlight their guild affiliation. Nearly a decade and a half later, capes have finally made it into the sequel, with today's update for Guild Wars 2, along with several other new features in what's being pegged as a significant "quality-of-life" update.
Capes are the big addition, serving as a new type of cosmetic back piece. You can get a Basic Guild Cape from Guild Commendation Traders and purchase a more ornate Emblazoned Cape for 500 Gems. Appearance-conscious characters can also hide their weapons when they're not in use.
In non-cape-related news, build templates will be "remembered" when you exit PvE, PvP, or WvW areas and automatically re-equipped when you return. There's also a new dynamic HUD that lets you show or hide parts of the UI while in or out of combat, so you can get that perfect screenshot.
As for actual gameplay tweaks, there are a few of those too, focusing mostly on the new Bjora Marches area and addressing some issues with profession skills. Notably, elementalists and engineers can now equip two weapon sets, and swap between them, but only when out of combat. You can read about all the other changes on the GW2 forums.