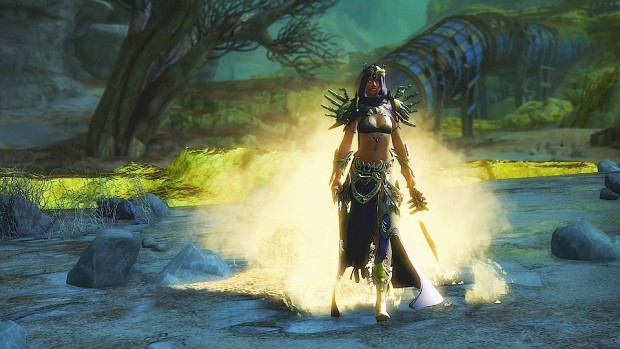 For Guild Wars 2's first expansion, Heart of Thorns, we got a not-always-steady trickle of coverage over several months of the nine elite specializations that were being added to the game. This time around, ArenaNet is wisely consolidating the bulk of the info into a single week, starting with a video dev diary of Path of Fire's elite specs.
Today's video covers all aspects of elite spec design, from conception to art to sound to testing and implementation in the game, compressing into five minutes what was probably a couple years of work. You can follow that up on the GW2 site with descriptions of each elite spec and the teaser videos that heralded their announcement.
But this is just the start of elite specialization week for Guild Wars 2. On Thursday, Aug. 17, we'll get a Guild Chat episode devoted to elite specs, and this weekend, you'll be able to take them for a spin in the game. From Aug. 18-20, GW2 players can log in to special elite-specialization-enabled characters and try out the new subclasses for themselves in player-vs.-player and world-vs.-world.
In other preview news, Mount Week begins Aug. 28 and Crystal Desert/Story Week on Sept. 3. Path of Fire launches on Sept. 22 and is available for pre-sale here.