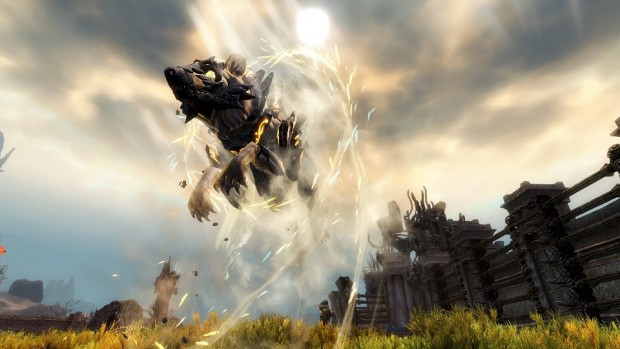 Guild Wars 2 turned five years old yesterday. Well, technically, the game launched for pre-release buyers on Aug. 25, 2012, but the "official" launch date was Aug. 28.
Now, the ArenaNet crew is gearing up for the game's second expansion, Path of Fire, today talking about one of the most-requested features since that launch five years ago: mounts.
Today's dev blog post and accompanying video go into greater detail regarding the development of mounts and their purpose in the expansion. Mounts in GW2 aren't just speed boosts; they give your character new ways to move around in the world — provided you improve them via the Mastery system — and interact with the larger maps in Path of Fire and all their "nooks and crannies." Oh, and there's a giant bunny, which some members of the dev team had their doubts about. But look at it! It's so fluffy!
There's a lot more to mounts than just moving. They all have "engage skills," enabling them to attack as you dismount when encountering an enemy. They also have their own health bars, so you'll want to keep them in good shape, lest you be forcibly dismounted.
Also, given the subject matter of this post, if the first comment isn't what it should be, we here at MMOBomb will be sorely disappointed…