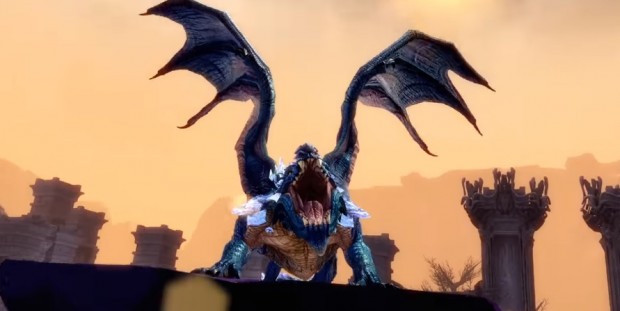 The next chapter of Guild Wars 2's Living World is jam-packed with content and features and is coming to the game next week. Chapter 4 of Season 4 is titled "A Star To Guide Us" and centers around a now-grown Aurene, the scion of Glint, who now has the power to challenge Kralkatorrik and has visions of several potential futures.
Apart from the story, this update will include a new map, the Jahai Bluffs, a land impacted by Kralkatorrik's branding. There's also a new upgradeable armor set and legendary weapon, the scepter Xiuquatl, which "summons a familiar who will accompany the player in battle," and a personal instance, Sun's Refuge, which takes place in a location that should be familiar to fans of the original Guild Wars.
Finally, there's a new raid, Mythright Gambit, which has players entering the Mystic Forge and challenging the djinn Zommoros. If he doesn't reward you with a precursor, then what's the point?
A Star To Guide Us goes live next Tuesday, Sept. 18. Learn more about the update on the GW2 site.