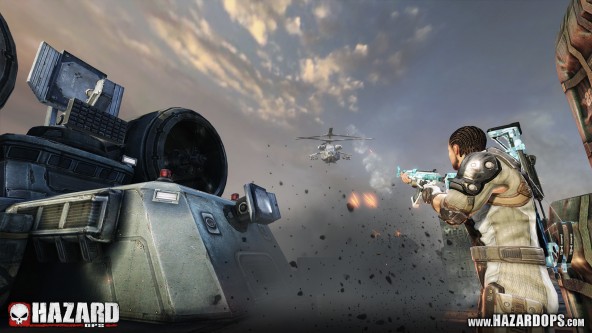 Hazard Ops, the third-person cooperative shooter from European publisher Infernuum has just opened up its Open Beta. Along with the previously available 8-on-8 PvP and cooperative PvE modes, the transition into Open Beta also brings with it the new co-operative map "Skull Island" and adds "King of the Hill" to the list of available game modes.
While characters have been wiped in preparation for the Open Beta, those who participated in the closed beta will receive a First Blood Pack upon logging into the Open Beta courtesy of Infernuum. It should be noted Hazard Ops is the same game as Zombies Monsters Robots which also recently began its Open Beta under the publishing supervision of En Masse Entertainment in North America. Feature wise, the two are nearly identical, but neither have an IP block so players from both sides of the pond are free to play whichever suits them best.
Hazard Ops was originally developed in the east under the name Mercenary Ops by former assistant Gears of War developer Yingpei Games. Players interested in trying out the Open Beta can sign-up on the official site here.