By now, we're accustomed to seeing game developers create infographics that detail how popular their games are, providing details like number of characters created, monsters killed, hours played, etc. Today, Jagex decided to turn that dynamic on its head and create a Runescape infographic not about the game itself, but about the game's customer service team.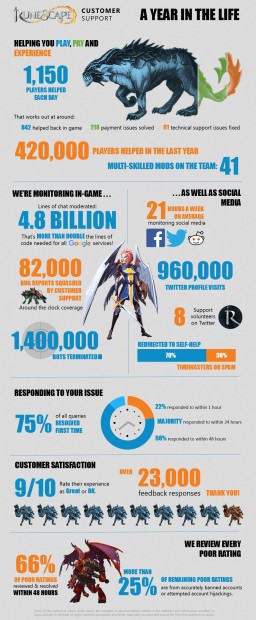 Honestly, I'm a little surprised to see that only 1,150 players are helped per day, considering that RuneScape boasts of having nearly 10 million active players — though I'm not sure how much of that total includes the 1.4 million bots that were squashed last year. It's also sad, though perhaps not surprising, that 30% of help request are just people wasting the CS rep's time. And while I do spend a fair amount of time on social media, I don't think it's 21 hours per week. Even cat videos can only keep me entertained for so long.
It's nice to see the mostly unsung heroes of game development, or more appropriately, game maintenance, get their moment in the sun. If you've ever worked customer service, you know it can be a thankless task, so even this small bit of recognition probably would probably make you feel a little warm and fuzzy inside.