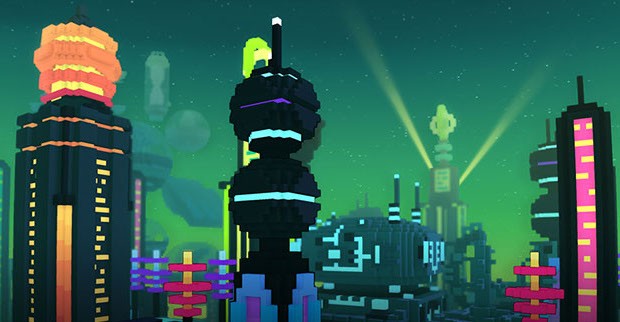 Trove's next big zone is a neon city filled with skyscrapers, robot overlords, and Kaiju-sized bosses on the rampage. Visually, it has a bit of a 1980's feel — but that's not why it needs your help.
The city is host to an ongoing fight between the Robot overlords known as Amperium, who are the ones responsible for turning the giant Rampage Bosses loose on the city, and the Resistors, who fight to defend the city with the aid of robotic avatars known as Kami.
When a Rampage Boss is summoned by the Amperium, a global alert is set off, summoning all Trovians to the city's defense. To assist players in defense of the city, the Resistors have set up outposts containing workbenches throughout the city where all kinds of new items can be crafted. These include new wings, mounts, and more. A short rundown on the crafting, and other uses of the Outpost System, can be found in the blog post on the Trove site.