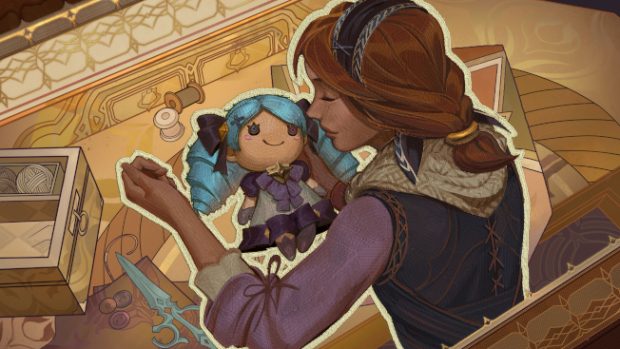 Okay, well, for a creepy doll, League of Legends' new champion is actually kinda cute. But any doll come to life is creepy, so there you have it.
Earlier today, Riot Games dropped both a teaser trailer and a gameplay trailer for the MOBA's next character. The announcement was apparently a surprise for some people, as reported on Blog of Legends where they note many were expecting to see Ruined Kin Viego's wife Isolde be resurrected to join him on the battlefield. Instead, the living doll Gwen — who may have actually been created by Isolde — has joined the battle.
In the teaser trailer, players see Gwen's creation and her creator with another before being destroyed. Gwen is then locked away in a box only to disappear into the sea for hundreds of years. According to the trailer blurb, Gwen has returned to seek the one who loved her (her creator).
Now, Gwen joins the battlefield armed with the materials she was boxed away with: scissors, needles, and thread — all of which can be seen in action below.